Homeowners often turn to concrete, either to install a new driveway or to revamp an already existing one. Your driveway plays a major role in how attractive your property looks. Concrete is a wonderful material to build your driveway. It's just not about boring, gray stuff these days. 
Concrete is a versatile material that is easy to clean and maintain, looks amazing, and is durable. Concrete is available in a half a dozen different types and styles, so no matter what your property looks like or what you prefer, there is bound to be something that you will love and your property will benefit from.
Concrete can be molded into different textures, patterns and colors. So, you can enhance your overall landscape design by going with concrete. The interesting thing about concrete is that it can come with the appearance and texture of different materials like slate, stone, brick or tile. So, concrete will be a great choice for your home's exterior.
Different types of concrete for your driveway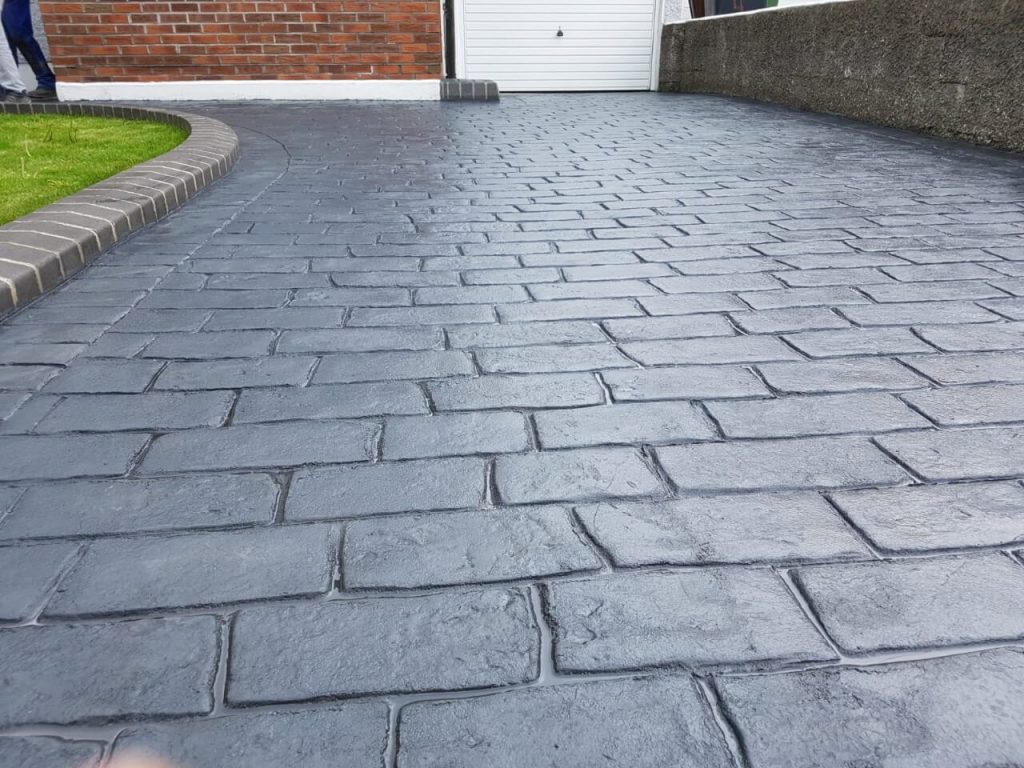 Plain or colored concrete
Plain or colored concrete is one of the most popular choices for homeowners. It will look elegant, clean and make a great fit for any house. If you are not too keen on a boring, plain and grey concrete, then there are numerous shades of colored concrete available.
This type is long-lasting and can be poured over literally any surface. A little color will go a long way in enhancing the attractiveness quotient of your driveway. For a simple, but high-quality driveway finish, a colored concrete driveway will be the apt choice. You can pick a color that matches your property and landscape.
The advancements in technology and chemical techniques have made concrete to be available in just about any hue imaginable. Various finishing techniques like broom finish, swirl or fan patterns can be used on the same colored concrete to achieve unique looks and effects.
Exposed aggregate concrete
Exposed aggregate concrete or a concrete driveway with pebbles is another fantastic choice for homeowners, and there is no second-guessing why. It looks sleek and attractive, and the surface made out of this material will be durable.
This concrete variety is versatile, with plenty of colors and textures to choose from. Aggregates like stones, slate, pebbles or shells are mixed with concrete and then poured onto the surface. The mix is then sanded back to realize a lovely texture by enhancing the beauty of the embedded materials near the surface.
The natural finish of the exposed aggregate surface looks great with natural surroundings.
Stencilled concrete
Stencilled concrete is a smart way to achieve a paved, tiled, slate, brickwork or stone look to your home, but without the use of pavers, bricks, stones or tiles. The various designs and patterns of stencils will give a unique look to your driveway.
Stencilling the design and pattern you like onto the concrete is done after the concrete has stiffened, but before it is fully hardened. This is the way to achieve the look of pavers, slate, stone, tiles or brickwork.
Stained Concrete
Stained concrete is one of the most affordable and versatile options for your driveway. Stains can be applied by hand once the concrete sets. If the stains make their way deep into the concrete surface, then the colors that are produced are permanent and won't fade away.
Chemical stains penetrate the surface to create lovely hues in the concrete. You can go with either acid-based or water-based chemical stains. Multiple acid-stained colors can also be used to achieve a rather realistic look.
You will get more options with water-based chemical stains than acid-based ones. The color palette of acid-stained colors is limited to subtle earth tones alone.
Slate Concrete
Slate concrete is formed by stamping slate textured mats into ready mixed concrete just before the setting stage. The final result resembles stone or slate, but the best part is that it does not involve as much maintenance as these two materials.
You can choose from different patterns and colors that are available. Slate concrete can be given a glossy finish with a touch of elegance that will make your driveway look very sophisticated indeed!
Stamped Concrete
Stamped concrete gives a large variety of color and pattern choices. With stamped concrete, you can create affordable replicas of sought-after materials like cobblestone, fieldstone, natural slate, weathered wood, brick, tile and even granite.
Unlike other types, stamped concrete doesn't have to be lifted and put up as individual units; it can be poured into place. It is why it is a cost-effective and quick to finish way of beautifying your driveway.
Interestingly, Stamped concrete can also be merged with other concrete types such as acid etch staining and aggregate finishes. Stamped concrete is gaining in popularity and more and more homeowners are preferring it because it is cost-effective, quick to put up, and comes with a huge array of colors and patterns.
Final Wrap-up
There are several varieties of concrete driveways available. You can choose one based on your personal preference and style, the aesthetics of your property, cost, and the ways you intend to use your driveway. We hope this guide will come in handy in picking the one that you will love!
[RELATED POST]: What to do about cracks in your driveway?